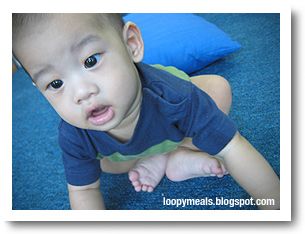 going places
Jesse had been trying to get around lately. After getting acquainted with with arms and legs over the last couple of weeks, he'd finally decided to put them all to good use.
So there I was visiting him at Mae's office during lunch hour on Monday when the boy decided to give us demo. Fortunately for me, like any goofy new parent, I had my camera with me just to capture the moment. And boy, what a moment that was. The again, I'm biased. He could be taking his first shit and I'd be proud of him.
Hehheh!
Anyway, Mae and I were practically cheering our heads off!!
The video's available here. It's small (about 1MB) so it should download pretty easily. Enjoy!
Now on YouTube!