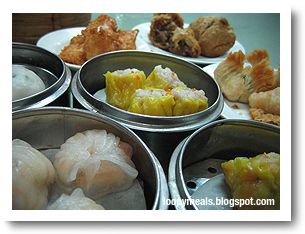 just aiiight, y'know...
This is from our last trip up
North
. Would have blogged this sooner but work got in the way. :)
For some reason, people associate Ipoh with Dim Dum. So when we got to Ipoh, Mae and I decided that we would sample Ipoh's finest. But here is where our problems began. Anyone familiar with Ipoh would tell you to get your Dim Sum at Foh San Restaurant. In fact, the reputation of Foh San's Dim Sum is legendary making it an important landmark in Ipoh - an institution, if you will. And so even years back, we decided that we would one day eat at Foh San.
Enter
Auntie Mooi
. When Auntie Mooi came to us as a confinement lady, we often asked her about her Kampar and Ipoh, since she was from that region. We announced to her that we would make a trip to Ipoh just to go to Foh San. And that, perhaps, was our mistake to make.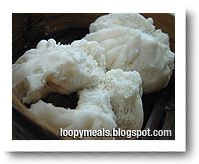 "Nobody eats at Foh San anymore,"
Auntie Mooi declares, and then she added scoffingly,
"unless you count labourers and contruction workers." (I swear she said that!)
Apparently, according to Auntie Mooi anyway, people go to Foh San for the cheap prices and the large servings.
"The good Dim Sum is at Yoke Fook Moon Restaurant."
She went on to advise us to go early to beat the crowd. We listened to Auntie Mooi. With her gentle demeanour, sincere face and the fact that she was caring for our newborn baby, we bought her story.
And so, on Day 2 of our trip up North, we awoke at 6:00 am to sample Ipoh's finest Dim Sum. That's six bloody a.m.!! And was it worth it? Unfortunately not. Sorry folks, Yoke Fook Moon Restaurant is really nothing spectacular. Sure, the Dim Sum is fairly easy on the palate, the ingredients were pretty fresh and the presentation acceptable, but it was nothing to shout about. And definitely nothing worth waking up at 6 for! Don't get me wrong; it wasn't bad. It just wasn't great.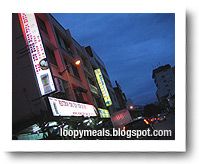 Mae and I kicked ourselves for not going to Foh San. Which goes to show that sometimes, just sometimes, you have to run with the crowd - especially where food is concerned. We took Auntie Mooi's word over hundreds of Ipoh folks and we regretted.
*sigh*
Looks like we'll have to make another date with ol' Foh San!