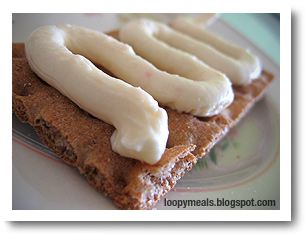 the best thing since Abba
If you've ever bought anything at Ikea Kota Damansara, you would have noticed an eatery right after the check-out counters. It's a small cafe at the exit area named, quite aptly so, the Exit Cafe.
Heh!
Yesterday, having run out of places to entertain Jesse, I brought him in to the section where they sell Swedish goodies. In fact, if you like any of the Swedish stuff you eat at any one of Ikea's 3 restaurants, chances are you'll find them here. Yes, even the meatballs and the brown sauce mix, and the little berries on top!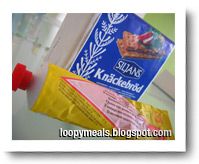 But what caught my attention was the squeeze-tube shrimp cream cheese! It's cream cheese with little bits of shrimp in it and it comes in a metal tube, just like toothpaste.
(Actually it's more like tile-grout since toothpastes no longer use metal tubes.)
I bought a tube of the stuff along with a pack of Swedish crispbreads.
I love it. The crunchy healthy-tasting crispbread! The creamy cream cheese. And the little bits of shrimp. Plus the convenience of getting in a tube. I'm half tempted to brush my teeth with the stuff. Or squeeze the whole tube in my mouth when no one's watching.
Whoa!
I bet Jesse would love it too, but I'm not sure if I'm ready to share yet.
Heh!
Ahhhh
... I love Ikea!